Cheque Printing Software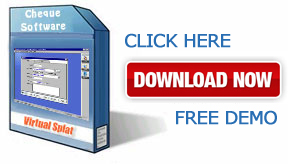 Our Cheque Printing Software will help you to print the Cheque in your bank's format. You can get bank statement with your inward and outward transactions. Check printing software 6.6 will saves lot of company's time and reduces cost and maintenance.


CREATE YOUR OWN CHEQUE FORMAT
The Cheque Printing Software allows you to customize your cheque settings like cheque height and cheque width. You can edit font size, styles etc. You can also edit a/c payee and bearer settings for a particular cheque. There are various other options which you can edit and display on your cheque. We provide various cheque templates (Blank Cheque images/photos) which in turn will help you to align the details in best possible way.
Our Cheque Printing Software is the simplest software solution for individual and companies etc, specifically Multi Currency Support and PC Setting programs. This simple Check Printing Software is the right solution for any Small or Large Scale business. Setting your cheque format in our software is very easy to operate, even non-accounting person can effortlessly work on it.
SUPPORTS ALL THE BANKS
You can edit the details for particular bank like format of the cheque, printing and date settings. We have listed all the major banks in our software. However, you can easily add your bank if its not in the list. Each bank can have different cheque size or layout and different configuration. The best feature of this software is, you can have unlimited bank accounts.
UNLIMITED PAYEE ACCOUNTS
Cheque printing software helps you to keep track of your payees and the transactions made with them. Once you set the payee details, you can use it for all transactions for that particular payee. These will avoid entering details again and again. Thus saves lot of your precious time and effort. You can create unlimited payee in this software.
NO SPELLING MISTAKES!
One of the important feature of this software is, once you write the cheque amount, the software automatically prints that amount in words. So, you don't have to worry about the spelling mistakes!
SUPPORTS ALL THE PRINTERS
This software is compatible with almost all the printers. Be it dot matrix or laser, this software will give you maximum output.
REPORTS GENERATION
You can print a daily, weekly, monthly or even yearly reports about the bank transaction of the payee. User has to just provide the name of the bank, payee name if he wants (or it will print all the payee''s names), FROM and TO date & there is also a option of cheque reports, if checked(will print only cheque transaction) or it will print both cheque and cash transaction.
BANK RECONCILIATION
Every member will receive their own personalized self Bank Reconciliation, with a static, or Bank statement verifying the Cheque Date or Bounds cheque. The Cheque Printing Software supports virtually Bank Reconciliation, and can be easily managed through the companies or Non Accounting Person who can verify the date of the cheque given by the other companies by this Bank Reconciliation feature. It will help you in following points:
Bank Statement Verifying Dates of Cheques
Easily managed through the Non Accounting Person Or Companies
Instant Bank proof Records for Small and Large Scale Companies
Getting history Records from Bank By Giving Bank Reconciliation
MULTI CURRENCY SUPPORT
The Simple Cheque Printing Software supports Multiple Currency program structures, allowing you to create any type of Currency. Some of the major currencies that listed in our software are:

Indian Rupees


Dollars


Pounds


Dinar


Euro


This Simple Check Printing Software can easily manage Multiple Currency.
SUPPORTS BULK PRINTING
The most important feature of this software is it supports back to back or roll back printing. Thus, you can print hundreds of cheques in just ONE click.
To know how to use this user friendly simple software, we have uploaded videos for your easy understanding. You can visit the below link :

Guidelines to use the Cheque Printing Software
We provide you with FREE Demo, which you can use it for 30 days. The free demo will help you to get well-versed with the software. For Free Demo, Click HERE!
If you have any doubts or queries or if you want any further details, feel free to contact us at sales@virtualsplat.com